Yesterday, Today, The Future... by Carolyn Stubbs
---
The real exhibition!

The actual collages, from which this virtual display was created, were exhibited in public, for the first time, from 9 May to 23 May 2000 at The Architecture Centre, Narrow Quay, Bristol. The following pictures, taken by webmaster John Wilson, kindly invited by the artist, record the opening of the exhibition by the Lord & Lady Mayoress of Bristol on the evening of Wednesday 10 May 2000.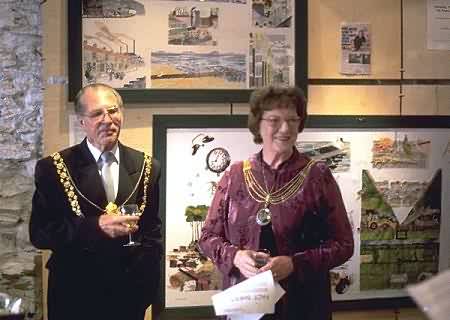 Lord & Lady Mayoress of Bristol opening the exhibition



Carolyn Stubbs with her youngest daughter Rebecca
and husband Richard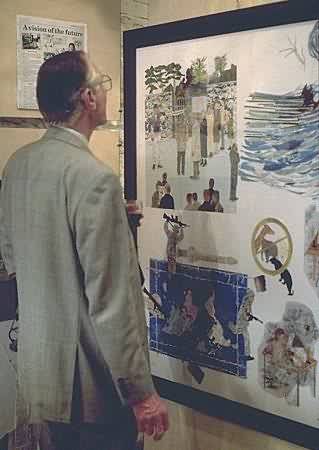 Mr Alec Ewens (from the Bristol Chamber of Commerce)
viewing "The Future..." panel



The work was subsequently exhibited at the CREATE Environmental Centre, Smeaton Road, Bristol BS1 6XN. The Centre has its own art gallery and the exhibition ran from Saturday 16th September to Friday 6th October 2000. The opening coincided with 'Doors Open Day' where the Centre welcomes new projects and has a variety of conferences and delegates arriving for the new season.
Carolyn Stubbs receiving her award from the Conservation Foundation

Yesterday | Today | The Future... | Top